Trekking Huayhuash (Perú)
¡Dejate cautivar con esta joya Andina!
Explorando los Tesoros Andinos
¡Bienvenidos a la Cordillera Huayhuash, donde la grandeza de los Andes nos envuelve en un abrazo místico! Nos adentraremos en un mundo de paisajes sobrecogedores y misterios ancestrales. Desde Huaraz, nuestro viaje nos llevará por caminos antiguos y senderos de ensueño. Cada día será una travesía hacia la esencia de los Andes, donde las lagunas reflejarán los picos nevados y los valles susurrarán leyendas que perduran en el tiempo.
Encontraremos la serenidad en las alturas y la paz en la vastedad de la naturaleza. Cada paso nos conectará con la grandeza de este tesoro andino, donde las montañas son guardianas de secretos milenarios. ¡Prepárate para una odisea que desafiará tus límites y abrirá tu corazón a la majestuosidad de los Andes peruanos! Acompáñanos en este viaje transformador, donde la belleza indomable de la Cordillera Huayhuash nos espera para revelarnos sus tesoros ocultos.

Para reservar tu lugar debes realizar una seña por
USD 200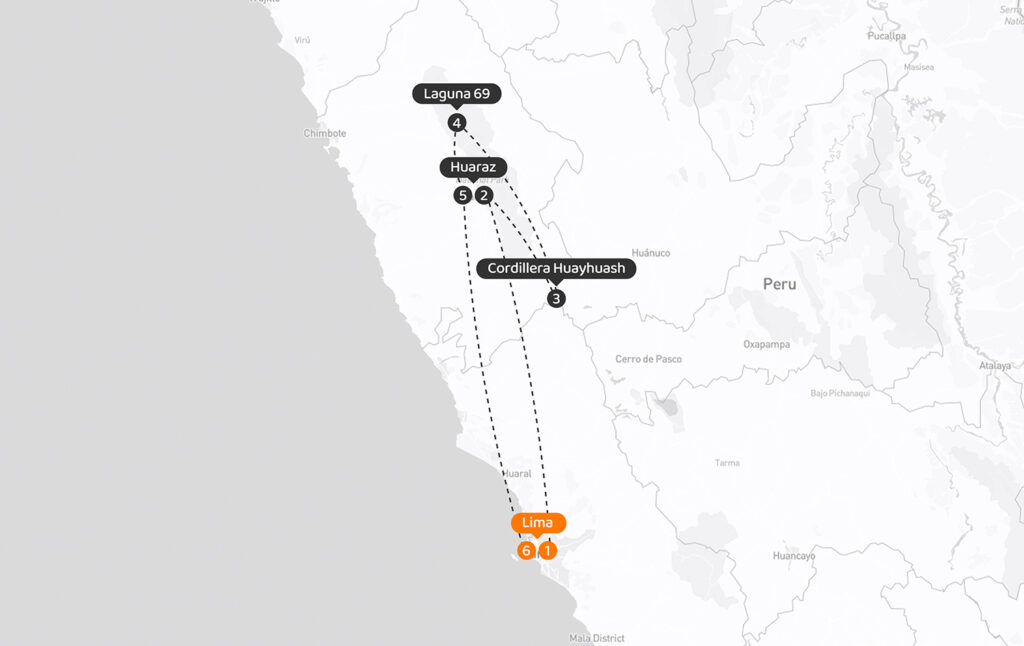 Day 1: Arrival to Lima
A lo largo de este primer día, nos encontraremos con todos los viajeros en la terminal de buses de Lima, dejaremos nuestro equipaje y podremos salir a conocer los alrededores, tomar un buen té de coca para preparar nuestro cuerpo a la altura. llegada la noche saldremos camino a Huaraz
Día 2: Encuentro con las tradiciones
Luego de desayunar, tendremos tiempo para recorrer las bellas calles de Huaraz. Será importante tomarse este primer día con calma para irnos aclimatando a la altura, te recomendamos caminar por los lugares más emblemáticos de la zona atendiendo a los detalles que hacen de esta ciudad un destino único.
Day 3: the letter
A lo largo del día podremos disfrutar y recorrer la ciudad de Huaraz como más nos guste. Tendremos tiempo libre para caminar por sus calles y visitar sus lugares más emblemáticos, también podremos disfrutar de sus mercados de artesanías y de gastronomía peruana desde donde podremos ver y conectarnos con las tradiciones latentes del pueblo andino.

Día 04: Travesía de los Sueños
Partimos al amanecer desde Huaraz, conduciendo hacia la aventura. En Huallanca, nos aguarda un desayuno típico que deleitará nuestros sentidos. Luego, ascenderemos hacia las alturas de Huánuco Pampa, donde los vestigios del pasado nos envolverán en su misterio, la travesía continúa hacia Queropalca, donde nuestros sueños andinos tomarán forma en el primer campamento.
Día 05: Un Laguna de Ensueño
Nos adentraremos en la magia de la cordillera caminando suavemente hacia la increíble laguna de Carhuacocha, serán 9 km de recorrido antes de llegar a nuestro destino, ya allí, el espejo cristalino reflejará los imponentes nevados Yerupaja, Siula y Ninashanca, creando un escenario de ensueño. Descansaremos en el campamento junto a esta joya de los Andes, permitiendo que su esplendor nos embriague el alma.
Día 06: Mirador de las Cumbres
Nuestros pasos se dirigen hacia el mirador Siulá, una ventana privilegiada hacia la grandeza de las montañas y las lagunas. La emoción nos invadirá mientras contemplamos la majestuosidad de la naturaleza en su máximo esplendor. Luego de 14 km de recorrido estaremos de regreso en Carhuacocha, el silencio de la noche nos abrazará en un mágico encuentro con la montaña.
Día 7: Rutas Ancestrales
El camino nos desafía con la ascensión al paso Punta Carhuac, pero la recompensa será infinita. Las vistas panorámicas de la cordillera nos inspirarán y nos acercarán a lo más profundo de los Andes, luego de nuestro recorrido de 12 km nos detendremos para descansar en Mitucocha, rodeados de un paisaje andino exuberante, encontraremos refugio en la naturaleza.
Día 8: Cumbres Místicas
Cada paso nos acerca más a la cumbre de la emoción, el día de hoy nos esperan 14 km de senderos andinos, iniciaremos el día con nuestro destino fijado al paso Cacananpunta, donde la belleza de las lagunas y los picos nos dejará sin aliento, luego de apreciar esta vista única iniciaremos nuestro descenso camino a Rondoy, en donde acamparemos bajo un manto de estrellas, conectando con la esencia de la montaña.
Día 9: Encuentro con los Ancestros
El camino nos lleva a conquistar el paso Sambunya, donde el viento susurra secretos ancestrales. Desde lo más alto, seremos testigos de los imponentes nevados Yerupaja, Shirishanca y Rasac, luego del recorrido de 14 km, ya en Jahuacocha encontraremos nuestro campamento a las orillas de la laguna, la paz de este paraje nos invitará a la reflexión y la conexión con la naturaleza.
Día 10: Regreso a las Raíces
El amanecer iluminará nuestro descenso hacia el último paso, Pampa Llamac. Con gratitud en el corazón, despediremos la cordillera para regresar a Huaraz, llevando con nosotros la esencia de esta travesía inolvidable por la majestuosa Cordillera Huayhuash.
Día 11: Una vista de ensueño
Hoy nos dirigimos a Cebollapampa, el punto de inicio del emocionante trekking a la Laguna 69, es una caminata moderada de 13 km que nos brindará impresionantes vistas de picos nevados, valles glaciares y una panorámica privilegiada de la hermosa Laguna 69. El recorrido nos permitirá conectarnos con la majestuosidad de esta joya de ensueño antes de regresar a nuestro alojamiento.
Día 12: Despedida
Porque lo lindo de volver de viaje es (re)conocernos en lo aprendido. Siempre es importante regresar al lugar de origen para compartir las vivencias, las fotos y las experiencias que hayamos encarnado a lo largo de nuestra estadía.
Durante este día nos estaremos despidiendo del encanto andino y emprenderemos el viaje de retorno a nuestros países de origen.
Everything else that is not specified in the listing

Frequently asked questions
It has been deleted recently, the need for PCR testing COVID19 and it is sufficient insurance to cover such a disease as that we included.
 Backpack small or medium-sized for the day-to-day
 Cubremochilas waterproof
 Jacket or waterproof jacket
 Hat or cap to cover the neck
 Mosquito repellent
Sunscreen
 Hiking boots or running shoes mountain
 Adapter plugs
We will stay in hostels with all the necessary amenities, in-room shared only with the group of Voltage. Also, the use of the bathroom is also shared
We recommend carrying between 400 to 500 extra dollars for food and other everyday expenses in travel (souvenirs, extra activities, etc)
If, if you have any request to diet, food allergies or intolerances in particular, you must indicate this when you contact us prior to your trip. This currency can inform the accommodations to make it possible to meet your needs. It is also important that at the time of the trip to tell your coordinator for your dietary needs.
Are you interested in this adventure?
Guatemala, Belize, and Mexico